Product Description
In terms of compact size, high resolution and precise performance, the automation industry has never seen a line of rotary servo motors like today's Sigma-7. The full range of products from 3w to 55kw perform in higher temperature extremes, at higher altitudes and in more washdown environments than ever before. Every Sigma-7 model is backward compatible with existing Sigma-5 and Sigma II products.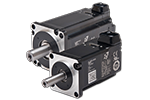 Specifications︰ Sigma-7 Servo Products

The Next Revolution in Servo Performance
Sigma-7 products set a new industry standard in servo capability, with features that advance Yaskawa's 25-year reputation for redefining the possibilities in motion automation.

Sigma-7 is a complete family of servo motors and SERVOPACK amplifiers from 3w to 55kW, easily paired with a Yaskawa machine controller to create a motion automation system with the industry's highest quality and reliability.

If the servo product you need is not listed below, view our other servo amplifiers or other servo motors, which includes legacy products.
Advantages︰ Match any Yaskawa servo motor with a fully digital, easily networked SERVOPACK amplifier. The productivity features within each SERVOPACK enable more precise control and shorter settling times. Each model is equipped with a package of software algorithms that tune automatically, suppress vibration, and compensate for friction and ripple and effects. Choose from single or dual axis designs.


SGD7W MECHATROLINK-III Dual Axis, 200/400V (200W - 1.5kW)
SGD7S MECHATROLINK-III Single Axis, 200/400V (50W - 15kW)
SGD7W EtherCAT Dual Axis, 400V, 750w - 1.5kW
SGD7S EtherCAT Single Axis, 200/400V (50W - 15kW)
SGD7S Analog Single Axis, 200V, 50W - 15kW
SGD7S Sigma-7Siec Single Axis, 200/400V, 50W-15kW
SGD7S MP2600iec Single Axis, 200V, 50W-15kW
SigmaLogic7 Compact Single Axis, 200V, 50W-15kW
SigmaLogic7 Modbus Single Axis, 200V, 50W-15kW
Ship Date︰ ON STOCKS
Standard Met︰ ul vde ce ccc
Product Image